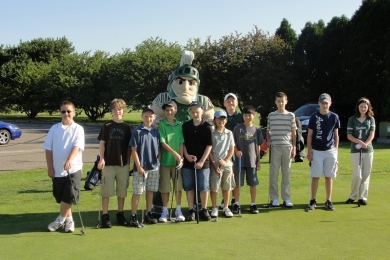 Three day camp designed for beginner and intermediate golfers to develop the golf swing and incorporate athletic-related movement stations that teach balance, body movement, and body control.
Ages: 8-14 | Boys and Girls
Program Includes:
Golf instruction
Golf swing mechanics
Rules and etiquette
Course safety and golf-related terms
Various golf games
On-course experiences to increase the comfort level and golf course knowledge
Unlimited range ball usage during class time
Gift bag
Skills assessment and tracking
Lunch included daily
Cost: $299/student (three-day camp)  U-Club golf members receive a 10% discount.
Class Ratio: 6:1
Camps are Monday through Wednesday
8:30 a.m. | Drop off
9 a.m.-4 p.m. | Camp

Junior Camp Schedule: Summer 2021
Junior Camp #1 - June 28th through June 30th - SOLD OUT
Junior Camp #2 - July 12th through July 14th - SOLD OUT
Junior Camp #3 - July 19th through July 21st - SOLD OUT
Junior Camp #4 - July 26th through July 28th - SOLD OUT
Junior Camp #5 - August 2nd through August 4th - SOLD OUT
Junior Camp #6 - August 9th through August 11th - SOLD OUT
Junior Camp #7 - August 16th through August 18th - SOLD OUT
You will be redirected to a secure MSU site for registration and payment. Your credit card statement will show a charge for MSU. You may also pay by ACH (checking account). You will receive a confirmation of payment and registration within 5-7 business days.