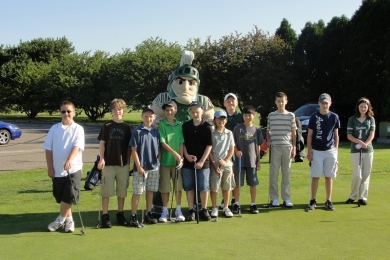 2019 Spartan Golf Academy Junior Golf Camp
Ages: 8-16 Boys and Girls
Three- and four-day camps designed around developing the golf swing, incorporating athletic related movement stations that teach balance, body movement and body control.
Program Includes:
Professional golf instruction
Golf swing mechanics
Rules and etiquette
Course safety and golf related terms
Various golf games
On-course experiences to increase comfort level and golf course knowledge
Unlimited range ball usage during class time
Lunch included daily
Cost:
$289/student (three-day camp)
$359/student (four-day camp)
U-Club Golf Members receive a 10% discount
Class Ratio: 6:1
8:30 a.m. Drop off
9 a.m.-4 p.m. camp time
4:30 p.m. pickup
Junior Camp #1 - June 24 through June 27 - SOLD OUT
Junior Camp #2 - July 8 through July 11 - SOLD OUT
Junior Camp #3 - July 15 through July 18- SOLD OUT
Junior Camp #4 - July 22 through July 25 - SOLD OUT
Junior Camp #5 - July 29 through Aug. 1 - SOLD OUT
Junior Camp #6 - Aug. 5 through Aug. 8 - SOLD OUT
Junior Camp #7 - Aug. 12 through Aug. 15 - SOLD OUT
Online Registration
You will be redirected to a secure MSU site for registration and payment. Your credit card statement will show a charge for MSU. You may also pay by ACH (checking account).
If you are a UCLUB Golf Member or have a Forest Akers Gift Card, please use the link below to register. You will have to come in to the West Golf Shop to pay for your fee. You will receive instructions on payment after your online registration is processed.
U-Club or Gift Card Registration
You will receive a confirmation of payment and registration in 5-7 business days.