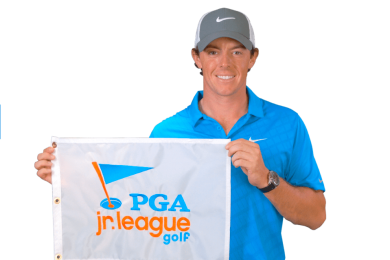 2018 PGA Junior League Team
Boys and girls ages 13 and under - all skill levels
Key youth initiative of PGA REACH, the charitable arm of the PGA of America
Nurturing environment for learning and developing skills both on and off the course 
Recreational program that works with PGA sections and local youth organizations across the country
Designed for fun, good health and sportsmanship, social and inclusive environment to learn the game of golf 
Regular Season Matches
June 10-July 31
Participants wear numbered jerseys and play on teams with their friends versus individual competition. 
Each team is captained by a PGA Professional, who serves as the coach. 
Teams play four 9-hole matches in a popular two-person scramble format, reinforcing the team. 
Coaches substitute players every three holes, so that all the golfers on each team can participate.
Serves as a feeder system to transition youth golfers to existing junior golf programs
Following Regular Season - the competition really heats up
In August, 10-player all-star teams are assembled with players from a combination of teams in the league, based upon the final standings. All-Star teams compete in sub-regional and regional competitions for a chance to earn a spot in the PGA Jr. League Championship.
Price: $249 ($75 PGA fee due upon registration online through PGA Portal and the remaining $174 payment is due to Forest Akers)
Registration
There is a two-step registration process.

Step 1:
Register through the PGA Portal. A new browser page will open to the PGA Portal. 
You need the following information: 
Program name: Spartan Golf Academy, zip code, miles requirement. Submit and register.
If you do not have a current login (past player), you will have to create one. 
Pay the $75 PGA Jr League portion of the fee.
Step 2:
Register through the MSU Portal. 
You will be redirected to a secure MSU site for registration and payment. 
Your credit card statement will show a charge for MSU. You may also pay by ACH (checking account).
Pay the $174 portion of the payment for MSU.
You will receive an email confirmation of your payment along with information regarding the season. It could take up to 3-5 business days.
The $249 fee includes:
6 weekly matches and 8 practice sessions
$30 range debit card at Forest Akers Driving Range
One short game pass for short game area at Forest Akers
Two Garb jerseys (home and away), available in both boy's and girl's sizes
Bag Tag
Performance Ball Cap
Drawstring Bag
Access to the PGA Jr. merchandise store
Practice Schedule: Mondays (excluding Memorial Day and July 1)
5:30-6:45 p.m. at Forest Akers East
May 20, June 3, 10, 17, 24, July 8, 15 and 22
Match Schedule: Sundays (excluding Memorial and Father's Day Weekend)
Shotgun start at 5:30 p.m. on Forest Akers East Golf Course
June 9, 23, 30, July 7, 14 and 21 (July 28 is reserved for weather-related make-up matches)
Registration closes May 15 or when teams are full.